Reading Time:
2
minutes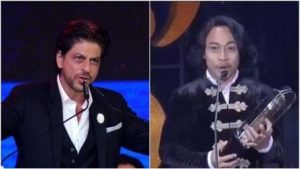 After winning the Piala Citra for the best actor in a leading role, Muhammad Khan expressed his gratitude and affection for Shah Rukh Khan. He is a debutant Indonesian actor, thanked Hindi cinema megastar Shah Rukh Khan, a renowned famous actor in the world. 
"I dedicate this award to King Khan. You are the reason why I became an actor. I hope I can meet you": Muhammad Khan (an Indonesian new actor who won Piala Citra for Best Actor in a Leading Role).

Inspiring level reached International Level. @iamsrk 🙏🙏pic.twitter.com/9MOoVMOPWf

— JUST A FAN. (@iamsrk_brk) December 9, 2019
Muhammad also stated that he was inspired by King Khan and at the age of 10 he decided to become an actor. 
The speech went viral and somehow got into the notice of Shahrukh Khan and he gave a sweet reply to the Indonesian actor. 
"I dedicate this award to King Khan. You are the reason why I became an actor. I hope I can meet you": Muhammad Khan (an Indonesian new actor who won Piala Citra for Best Actor in a Leading Role).

Inspiring level reached International Level. @iamsrk 🙏🙏pic.twitter.com/9MOoVMOPWf

— JUST A FAN. (@iamsrk_brk) December 9, 2019
Muhammad Khan won the award for playing the lead in Kucumbu Tubuh Indahku (Memories of My Body). The film bagged seven other awards as well. Khan plays Javanese dancer and choreographer Rianto in the film. Muhammad lucked out as he received a response from his idol, When Muhammad's acceptance speech had gone viral on social media, Shah Rukh tweeted, "I am so glad for your success. Will meet you soon. Have a good life and keep feeling as an actor & Thanks to everyone for bringing this to my notice."