A recent ad released in Pakistan to gain attention for the June 16 clash was truly out of line. This ad shows a man made to look like Wing Commander Abhinandan Varthaman, with a trademark mustache and also wearing a blue jersey, like the Indian Cricket Team.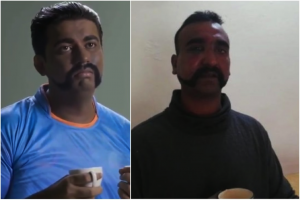 He is asked several questions related to cricket to which he says repeatedly Abhinandan's famous statement, " I AM SORRY, I AM NOT SUPPOSED TO TELL YOU THIS ".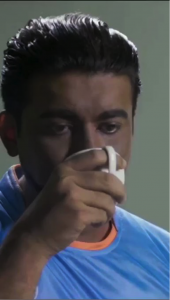 He also sips tea from a cup, just like in the video released by the Pakistani Military, where he was shown being questioned after being beaten up.
Obviously, a lot of people were disappointed and disgust by this.
On the other hand, the iconic 'Mauka Mauka' ad is out by Indians where the characters are loved by the masses because they are funny and carry a sense of humor. The protagonist is an actor sporting the Pakistan jersey, who cannot bear the pain of Pakistan losing against India at the ICC World Cup Stage.
June 16 ,2019 – the day on which the old rivalry between India and Pakistan will revive again. In the advertisement, a Bangladesh fan comes up to the Pakistan fan and wishes him the best for Mauka Mauka – version 7.
In his reply, Pakistan fan says," koshish kartey rehna chaiye. kya hai ki,koshish karne walo ki na kbhi har nai hoti hai. Aise abbu kaha kartey the ".
An Indian fan, who is sitting right there and asks," Chup page! Maine aise kab kaha?"
The Pakistani fan tries to reply to his question but then realizes that the Indian fan was sarcastic. Apparently, the Indian fan wanted to convey that he was the baap ( father). The theme of this ad is on the occasion of father's day i.e. on 16 June, 2019.