I guess nobody in the world would deny living a Luxurious Life, Like Ambanis
Here are some of the most expensive luxury cars in their car collection which anyhow unveils the car lovers, It is something that any of us would dream to travel in and adore. One of the world's top business tycoon Mukesh Ambani Managing director of Reliance Industries has got some of the ultra luxuries of life at his disposal.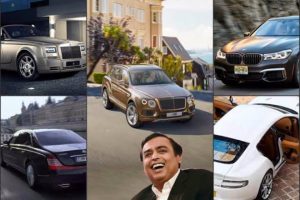 The Ambani family is also a known car aficionado and owns the most exotic vehicles from around the world. Let's take you through a quick tour of the cars…
Rolls Royce Cullinan
Price: Rs 6.98 crores, ex-showroom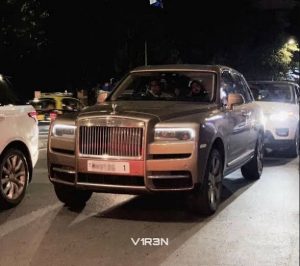 The Ambanis are the first ones in India to receive the delivery of this luxury car. This Suv from the British is still making its way to many celebrity homes in India and Abroad. It is the world's first Super Luxury and Effortless everywhere car, From urban adventures to journeys into the wilderness. It can handle any environment with no bounds to entertainment. Although has been spotted several times in India. It gets powered by a new 6.75-liter V12 petrol engine that generates a maximum power of 563 Bhp and 850 Nm.
Bentley Bentayga W12
Price: Rs 4.5 crores, ex-showroom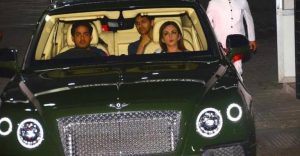 This multi-crore car of Ambanis The Bentley Bentayga is one of the fastest production SUVs and it is capable of achieving a top speed of 301 kmph. Powering this behemoth is a 6.0L, V12 engine that is good for churning out 600 bhp along with a peak torque of 900 Nm. Though after its delivery in India it became the sensation of people. Bentayga built from British Craftsmanship is also said to be the best of both worlds. 
Bentley Bentayga V8
Price: Rs 3.8 crores, ex-showroom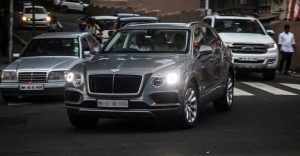 The Ambanis received the delivery of a second Bentley Bentayga soon after the first one, The Automakers rushing to fill their lineups with SUVs of every ilk and size, and this premium Bentley is no exception. It gives you nine-tenths of the W12's power, grunt in a package that's considerably less expensive and more efficient. Bentayga does feature the brand's design language in a way that looks good on an SUV. It gets powered by a 4.0-liter V8 engine that generates a maximum power of 542 Bhp and peak torque of 770 Nm
Lamborghini Urus
Price: Rs 3.2 crores, ex-showroom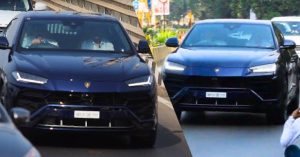 The Ambanis were again one of the first ones to receive the latest from the Italian car manufacturer. The Urus is one of the quickest SUVs in India and gets powered by a 4.0-liter V8 engine that generates a massive 641 Bhp and peak torque of 850 Nm. It can do 0-100 km/h in just 3.6 seconds. The Lamborghini Urus is Lamborghini's second SUV after the classic Lamborghini LM002
Mercedes-Benz G63 AMG
Price: Rs 2.2 crores
The ultra-rich Ambani kid has no dearth of cars. They recently got themselves a Rolls Royce Cullinan besides already having two Bentley Bentaygas. Mukesh Ambani is another proud celebrity owner of the Mercedes G-Class SUV. Interestingly, Range Rovers are used by their security that runs along with their cars when any Ambani family members go out on road. The car gets powered by a 5.5-liter Bi-Turbocharged V8 engine that generates a maximum power of 544 Bhp and a peak torque of 760 Nm.
It's no surprise that he owns one of the expensive and rare cars in the world.
It is not a secret that Mukesh's garage can aid 168 cars in his House where he has allotted six floors only for cars.
There is even a car service station on the seventh floor of their home.